In this section...
Welcome to our class page!
We are the CREATIVE CRIMSON CATERPILLARS!!!
Spring 2 2020 - School Closure
Good morning Crimson Class!!
We hope you have had a lovely weekend and are keeping safe! Did you all enjoy the sunshine last week? Who played outside in the garden?
There is a TTRS battle going on at the moment...Teachers vs Students! Well done to Annabel who has the highest score from our class in the battle so far!
How did you get on with last week's challenges? Take a look at what some children have been getting up to at home!!
Don't forget that tasks have been set for you on Spelling Shed and all the Crimson staff will be checking our learning platforms regularly, to ensure you have enough to keep you al busy :)
Don't forget that you can show us what you have been doing at home via twitter! @Carlton1876
Bye for now and remember to keep safe and keep smiling!!
********************************************************************************************
Week 3 - Challenge of the day
Monday 30th March 2020 - In English, we have been learning all about persuasive leaflets!
I want you to think of you favourite place! This could be the zoo, the park or even your very own garden! Can you write a leaflet persuading someone to go there?
Don't forget your title, subheadings, pictures and try to very the types of sentence you use
Tuesday 31st March 2020
Good morning everyone. Mrs Smillie here, hope you are all ok. Mrs Smillie's hand is feeling a lot better now and so I am back working with you all again. Keep sending in your photos of what you are doing, as it keeps myself, Miss Earp and Miss Tattersfield smiling.
In Maths, we have looked at how to tell the time using O'clock, half past, quarter past and quarter to.
In your book make a diary of what you do today. Draw the time on a clock and say what you are doing.
For example:
9 O'clock - PE with Joe Wicks.
10.30 - TTRS.
Can you challenge yourself and add in a quarter past or quarter to clock?
Well done to this Crimson Caterpillar for getting out and planting in the sunshine last week. Hope your peppers grow well.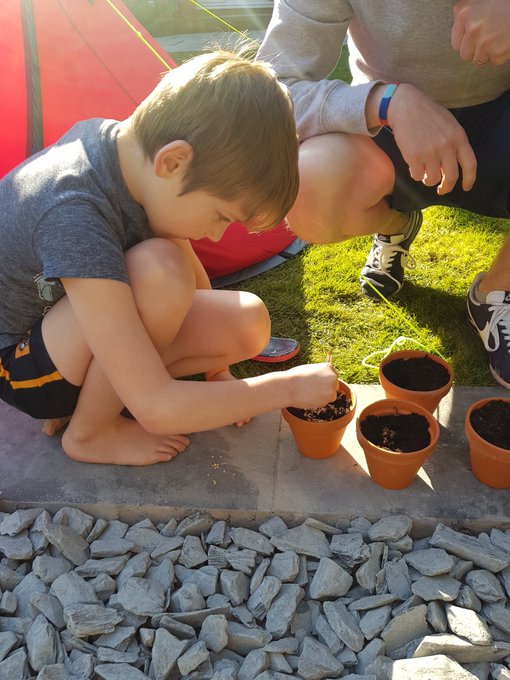 Wednesday 1st April 2020
Good morning everyone - Happy April Fools Day - are you going to play a trick on someone this morning? - Remember only before 12 O'clock.
Great to see Martha showing her acting skills with her sister -The Shakespeare sisters!
Todays daily task is a picture task.
Look at the picture below answer the questions - remember to answer in full sentences.
What jobs do you think each animal has in animal town?
If you could be any animal, what would it be and why?
If you could have any job, what would it be and why?
Would animals be better off without humans?
Would humans be better off without animals?
Have you joined in the TTRS tournament - teachers against children. Miss Jackson is still in the lead for the teachers, but Mrs Smillie is catching up in second place!
Thursday 2nd April 2020
Good morning everyone.
Who has signed onto TTRS and is trying to beat the teachers in the tournament? It ends today at 12 O' clock. I will be signing in this morning and trying to catch up to Miss Jackson.
Also remember to log onto Bug Club and read a book today.
Well done Oliver. Great work in Maths with the clock faces. Nice to see your sentences using the picture of the animals yesterday. By the way we all love your new glasses.
Todays task: Science
Mrs Smillie has been watching out for signs of Spring in her garden. In the bird box she has been watching the Blue Tits going in and out making a nest - very exciting. The daffodils have bloomed and are giving the garden some colour.
Can you look around your garden, or if you go on a walk, and look for signs of Spring. Draw, paint or create a picture of what you have seen.
Friday 3rd April 2020
Well done everyone who took part in the TTRS tournament. It was great to see so many names from Crimson amongst the students team. A special mention to the top 3 from our class: Ayva, Leja and Annabel.
The final score was: Teachers 162,157 Students 159,214
Great to see more of you reading books on Bug Club, we are now up to 16 / 30 of you logging on. Try and keep it up over the next 2 weeks.
Todays task: Find a dice and pick from each column and then write a story.
We would love to see what you have been doing at home. If you would like to share your learning then ask a grown up to take a picture of your work and post it on our twitter page or email enquiries@carltonprimaryschool.co.uk.
Miss Earp, Mrs Smillie and Miss Tattersfield wish all the children, parents, carers and their families a Very Happy Easter.
Stay safe, keep smiling and enjoy eating chocolate.
********************************************************************************************
Week 2 - Challenge of the day
Monday 23rd March 2020 - In Maths we have been learning about fractions. Can you tell someone in your house what we have learnt do far? Try and use the following vocabulary...
part, whole, unit fractions, non-unit fractions, thirds, quarters, halves
Need a little reminder? Take a look at this cool Super Movers video! https://www.bbc.co.uk/teach/supermovers/ks1-maths-fractions-with-joe-tracini/zmjy2sg
Tuesday 24th March 2020 - Take a look at the picture below from http://www.pobble365.com/ and see if you can answer the questions. Why not write these down in your Home Learning book? Remember Crimson Class...answers in full sentences please!!
Wednesday 25th March 2020 - Good morning Crimson Class! Miss Earp here! Today's challenge is a creative one!! As we have been learning all about trains, can you build one? You could use lego, junk modelling materials around the house like yoghurt pots/cereal boxes or even build one using cushions and blanket!!
Don't forget to share what you have done on our school twitter page! @Carlton1876
Thursday 26th March 2020 - Hello there Crimson Class! Only 9 people have been on Bug Club so far this week, do you think we could get all 30 on there?
Do you have a book in your house that you love? Well today's challenge is to produce a book review!! You can write this down or even present it and record it as a video or audio clip. Be creative as you like!
When producing your book review, please consider the following...
What is the title? Who is the author? Who is the illustrator? What is the plot? Who is your favourite character? Why?
Friday 27th March 2020 - Exercise!!! It is really important to keep active to help keep our body and mind healthy...so today's challenge is to try and do 30 minutes of exercise!
You can do a Joe Wicks workout, Cosmic Kids yoga or even a bit of basketball like we have been working on at school! Why not have a go at creating your own game or exercise and getting everyone in your house involved?
12 people have been on Bug Club so far this week! How many more children is that Crimson Class? How many more children need to go on to have a WHOLE class?
********************************************************************************************
A big hello from Miss Earp, Mrs Smillie and Miss Tattersfield!
We hope you are all excitedly getting on with your daily tasks. We can't wait to see what you have been getting up to!
If you have done something great which you would like to share with everyone, why not tweet us! You can find us on twitter @Carlton1876
We will be updating our class page with a tasks to challenge you. Keep checking for regular updates and remember to stay safe.
See you all soon!!
********************************************************************************************
Week 1 - Challenge of the day
Wednesday 18th March 2020 - How many facts can you remember about George Stephenson? You could make a poster, factfile or even just present these facts to someone in your house!
Thursday 19th March 2020 - Can you find some things that are living, once lived and never alive in your home? How can we tell that a car is not living? Why might someone think it is a living thing? Is water alive? How can you tell?
Friday 20th March 2020 - In English we have been learning about the 3 different sentence types. Can you explain to someone in your house what these are? Why not have ago at writing one of each sentence in your Home Learning book?!
********************************************************************************************
Here are a list of useful websites to keep you busy at home!
ICT Games - https://www.ictgames.com/mobilePage/index.html
Top Marks - https://www.topmarks.co.uk/
BBC KS1 Bitesize - https://www.bbc.co.uk/bitesize/levels/z3g4d2p
Phonics Play - https://www.phonicsplay.co.uk/index.htm
Cosmic Kids Yoga - https://www.youtube.com/user/CosmicKidsYoga
Joe Wicks 5 Minute Move - https://www.youtube.com/watch?v=d3LPrhI0v-w&list=PLyCLoPd4VxBvPHOpzoEk5onAEbq40g2-k
********************************************************************************************
In Crimson Class we are happy and enjoy learning. We keep our classroom tidy and look after the equipment and resources. We are good friends and look out for each other. Creative Crimson Caterpillars have excellent manners and are well behaved.
Our library day is on Tuesday. Please can you make sure that your child's reading and library book is in their book bag everyday.
PE Kits - Please make sure both indoor and outdoor PE kits are in school all week.
Homelearning - We ask that children read daily either using their reading book which has be sent home or by accessing Bug Club. In addition to this, children are asked to complete Times Table Rockstars throughout the week.
Children should now have access to NumBots, TTRS, Spelling Shed and Bug Club at home.
Should you require any assistance with any of these accounts, please speak to a member of the Crimson Class Team.
********************************************************************************************
Autumn 2019
This half term, our topic will be The House.
We started our topic by investigating a picture of a house! We discussed who might live there and where the house might be!
We looked at physical and human features and the difference between and town and village.
Part way through our topic, we decided to investigate where we get our food from.
We went on a trip to Morrisons where Lindsay, our local Community Champion, showed us around the store. We learnt about different types of produce that Morrisons have to offer and where exactly certain products come from! We even got to try different tasty items from around the store including mango, cheese and even freshly baked cookies made in store!
We then found out that the house from the beginning of our topic was actually a farmer from Carlton! He gave us a design brief of making him something bright, juicy and healthy for breakfast. She we decided to make him some yummy fruit kebabs!
We worked our way through the design process of planning, making and evaluating our fruit kebabs. We begin with testing out different fruits and deciding with combinations of flavour would work well together.
When making our product, we learnt how to cut various fruits correctly. Mrs Smillie taught us how to hold the utensils correctly and how to keep safe in the kitchen!
Autumn 1 2019
This half term, our topic will be Kings, Queens and Castles!
We kicked off our topic by looking at Kings and Queens that we already knew.
We spent some time researching Queen Elizabeth II.
We found out lots of interesting facts about her and her family!
Using the money KS1 had raised from Enterprise Week, we had a special visitor who came in and spoke to use about Kings and Queens from a long time ago.
We would like to thank the PTA for making this happen with their kind donation!!
Later in the term, we began to look at castles. We located famous castles in and around Yorkshire using maps and then started to look at the features of a castle. Then as a challenge, we got to build our own castles! Once they were built, we had great fun trying to knock then down!
In English, we have been creative and have been writing character and setting descriptions.
We looked in depth at Jack and the Beanstalk and Little Red Riding Hood.
We mapped out both the stories as a class to understand what makes up each part of a good story.
We used our fantastics to help us create detailed character and setting descriptions.
This half term, we also celebrated Black History Month.
We looked at various influential figures including Rosa Parks, Martin Luther King and Lewis Hamilton.
We then took an indepth look at Albert Johanneson. Albert was a South African professional footballer who was one of the first high-profile black men to play top-flight football in England.
Albert Johanneson played 200 times for Leeds from 1961 to 1969 and appeared in the 1965 Wembley final. He is recognised as being the first person of African heritage to play in the FA Cup final in 1965.